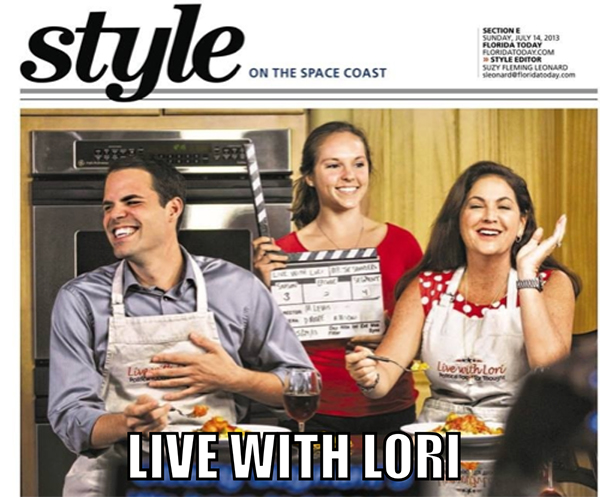 The third season of "Live with Lori: Political Food for Thought" begins 7:30 a.m. Sept. 25 on Fox affiliate Sun Sports, Channel 31 on Brighthouse and 1148 on Brighthouse HD. The show airs at 7:30 a.m. Wednesdays.
THE STORY: Lori Halbert's spacious Indialantic kitchen and adjacent family room are a whirlwind of action.
Invading the usually quiet comfort are video cameras, bright lights, cables, a teleprompter and busy crew members.
They are all there to shoot "Live with Lori," a cooking show that stirs a heaping helping of politics into some great recipes. The show, about to begin its third season, is broadcast on cable via the statewide Fox affiliate, Sun Sports.
The driving concept behind the show is to create a comfortable, everyday setting where viewers can begin to know their elected officials as real people. Lori hopes the show will help temper the rising rhetoric making politics such a minefield.
"I have not interviewed one person on my show who does not truly believe they can make something better," says Lori, 43. "Of course, you're going to have your own opinion. But when you vilify the other person's opinions, that's not politics. That's not government. That's just mean and nasty."
Lori certainly knows firsthand about mean and nasty. In 2008, when she was running in the Republican primary against state Rep. John Tobia, R-Melbourne Beach, she returned home from a hectic day to find that someone had thrown nearly 200 of her political signs into her swimming pool.
"We've got to the point where, in politics, if you're not my friend, you're my enemy," she says. "Even members of your own party, if you run against them, people get so angry and just rabid against the other people. There's something wrong with that. … It's malignant. It's awful."
The show's producer is Jason Steele, who is also Lori's fiance. A former member of the Florida House of Representatives, Steele says the show is a public service.
"We're both conservative Republicans," Jason says. "We were astonished and surprised when we brought people in across the aisle who were so caring and compassionate and with just as many good ideas as people on the conservative side.
"Our motto became, 'People, not Parties.' "
Contributing to society
That Lori would be so passionate about her mission is no surprise to those who know her.
"She's the real deal," says Suzy Miller, a longtime friend and stylist on the show. "She's not pretentious. She is always sincere. She is always honest."
A smart, strong woman, Lori says it's a shame for people to squander their lives, especially when they were born with the benefit of opportunities.
Lori knows this from experience: Her parents are Ray and Mayme Halbert. Ray Halbert was the founder, CEO and president of the old Documation.
"I don't believe government should take care of everything," she says. "You should really live in a community, take care of people in your community."
This life philosophy came from her parents, each of whom had six siblings, she says.
"Both my parents were born right smack in the middle of the Depression (and) grew up in Kentucky," she says. "They were very poor. He was youngest of seven children. Both of his parents had a fourth-grade education. He was the first one to go to college."
Her parents taught her to question everything. That, she says, laid the groundwork for one of her most important characteristics: the ability to see both sides of an argument.
An independent spirit
Despite her conservative nature, a hint of wild child beats within Lori Halbert.
She walks through her garden, showing off carrots and onions growing in large wooden boxes. In another corner of her spacious backyard, an herb garden sprouts thyme, basil, oregano and citronella.
She pauses to consider the unexpected sprouting of some yellow flowers.
"I don't know what it is," she says. "Maybe a weed. It popped up and started blooming. It's pretty."
Small heirloom watermelons grow in a large patch on the east side of her yard. Near that, a rose garden begs for attention and an avocado tree bends beneath the weight of its bounty.
She looks at some potted tomato plants growing in the shade, away from the Florida summer sun. Next to them is a large rain barrel collecting water from a gutter. She likes using that water because it has "all that nitrogen," she says.
"This is my project next week, working in the yard," she says. "It needs to be done."
Back inside the coolness of the house, Lori ponders her free spirit.
"Maybe," she smiles warmly. "I have a fine arts degree. My mother's a registered nurse. My father is an engineer. I was kind of like a round peg in a square hole."
She finished high school before the rest of her class, which meant she could head to Atlanta to attend the American College for the Applied Arts when she was 17. She majored in fashion design and merchandising, but quickly realized that wasn't for her.
She came back to Brevard, where she attended Brevard Community College. When she was 19, she headed to the Ringling School of Art and Design in Sarasota.
"I was really thinking about being a chef," she says. "I'll never forget what (my dad) said. He said you need to do something you can make a living at. The only way you can make a living as a chef is if you own a restaurant, and then you're married to it.
"So I went to art school. The irony of it is, 'Yeah, OK, I'm going to go to art school. Don't be a chef, be an artist, because there's so much more money in that."
Polite politics
After living in Miami, where she worked in Web design, advertising and marketing, she returned to Brevard.
When she was 29, her son, Jace, was born. Now 14, Jace is a handsome young man exuding confidence, friendliness and extreme politeness.
Not one to sit home, Lori became involved with local politics. In 2007, she was elected to the Indialantic Town Council. Three years later, she resigned to run for the state Legislature.
"I had no idea what I was getting into," she says. "Anybody who thinks that campaigning is easy is completely mistaken. That was for a state race. I cannot even imagine how tired these people are who run for governor or president or Congress. It is a drain. Physically tiring and mentally draining. I don't know if I would ever do it again."
But, as she says, you learn more from failure than you do success. And what Lori would end up learning was how deep her talents run.
It was at a big Fourth of July party in Lori's home that a friend made a suggestion.
"Somebody said, 'Lori, you ought to do a cooking show,' " Jason says. "She sat there and like a light went on in her head. … That's what created 'Live with Lori.' "
The growth of an idea
Lori and Jason got in touch with of Mark Lewis from Tightline Productions.
With Jason's political connections and Lori's personal connections, for the first two guests, they booked former Florida Sen. Mike Haridopolos and U.S. Rep. Bill Posey, R-Rockledge.
Other guests eventually signed on, including state Rep. Steve Crisafulli, R-District 51; Sen. Thad Altman, R-Rockledge; and state Rep. Rich Workman, R-Melbourne.
Then, the Florida Realtors Association learned about the show and came on board as a sponsor. By the end of a year, they had a few shows in the can.
"It's such a unique concept, such an interesting idea," says John Sebree, senior vice president of public policy for Florida Realtors. "When we first saw it, we thought, you know, it's so fascinating to see an elected official in this type of environment."
Still, it took them a year to get "Live with Lori" on the air.
Lori, Jace and Jason were in a small town in Italy's Tuscany region when the call came through.
"We got the call when we were having gelato," she says. "It was a big celebration. We had filmed seven (episodes) and still had no network."
After that first season, they received a contract for a second season. Before the end of the second season, Sun Sports exercised its option to renew it for a third.
"Our third season was completely booked before we started filming," she says.
Shoots are done in Lori's Indialantic home or in professional kitchens at Keiser College locations across the state.
State Rep. Joe Saunders, D-District 49, came to Indialantic to shoot his appearance.
"She did a good job making me feel comfortable and creating an environment where we could just talk," he says. "But do it in a way that was not about Republicans or Democrats, but about people, which is how it really happens in most people's homes. I think that is refreshing."
And, Saunders discovered the show has a following.
"My legislative aide, Carlos, says he is obsessed with 'Lori.' He watches it religiously."
State Rep. Steve Crisafulli, R-District 51, says the show has a bipartisan appeal.
"It has an opportunity to ease partisanship," he says. "She makes sure it is not a partisan message being delivered, which is healthy for politics, in my eyes."
The next course
Scheduled as guests are U.S. Rep. Dan Webster, R-District 10, and U.S. Rep. Alan Grayson, D-District 9. U.S. Sens. Bill Nelson, D-Fla., and Marco Rubio, R-Fla., have agreed to appear, but haven't set a date, Steele says.
The fact that these are national figures hints at what's on the horizon.
Indeed, Jason currently is in talks with two national television networks. He won't say which ones.
"In the next two seasons, we will start concentrating on U.S. congressmen from across the country in hopes of taking this show to a higher level."
---